About Emerald Oasis Express Car Wash.
Robert Grote has been in the full service car wash business for 26 years. In 1990, he started working with his father.  In 2011 he decided to branch out his own. He opened a two bay car wash in Emerald Isle, NC then opened a site in Havelock in 2013.  His newest wash is the Express Wash in Jacksonville in 2015.  He started the Jacksonville, NC Emerald Oasis Express Car Wash in 2015 with the idea that he would offer the best prices, the cleanest cars, the highest quality product and exceptional customer service. He has loved it ever since. Robert believes that there is nothing better than seeing a dirty car come in, going through his wash tunnel, seeing it come out perfectly clean and wowing the customer because of it. Because of this ideology, Robert is personally involved in all his wash locations and makes sure that everyone gets their money's worth. He is highly focused on customer satisfaction and always responds to customers.
At Emerald Oasis Car Wash, water conversation is important. That's why we reclaim our water. With our special high-tech system, we are able to reclaim 80% of our water. We are proud to be an ICA Water Saver Division Member for the National Car Wash Association. In addition to reclaiming our water, all of our products are biodegradable.
For those of our customers not in Jacksonville, we have 2 other locations nearby. We have a 2 bay automatic car wash in Emerald Isle that is open 24/7 and we also have a Havelock car wash with 6 self-service bays and 2 automatic rollover washes available. This location is also open 24/7.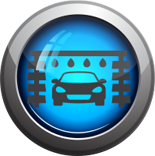 Express Wash
Mon-Sat 7:30am-8pm Sun 8am-7:30pm